---
Maze Creator is a Puzzle Design Software Package

The world leader in maze creation
Maze Creator is the world leader in maze creation software. If you are a maze enthusiast, teacher, parent, or publisher this product will almost automatically create create mazes for you. It creates pencil puzzles so quickly and easily making it a great tool for publishers, authors, teachers, parents, kids, or anyone who likes puzzles. Use this award winning application to create printable mazes almost instantly complete with solution. Publishers have adopted Maze Creator PRO as a important desktop publishing package. Use this software tool with Adobe InDesign, Adobe PhotoShop, or Microsoft Publisher as layout packages to create finished works. Maze Creator STD has been used world wide to create puzzles for newsletters, school newspapers, books, pamphlets, advertisements, as well as custom printing. There is even a Maze Creator HOME version for parents, puzzle enthusiasts, and teachers to create fun activities.

---
Maze Creator PRO

Preferred version of professional desktop publishers







The most powerful version of the Maze Creator family of software products. It contains features that do not exist in the other versions. This version is intended for commercial use by professional publisher such as News Papers & independent authors. Works well with Adobe InDesign, Adobe PhotoShop, and Microsoft Publisher publishing applications. The licensing on this application allows unlimited and unrestricted use of the output from Maze Creator. Publisher's can create mazes and place them within a newspaper or create a collection of works to sell as their own.

Commercial Publishing of work
8+ Template Styles & 14+ Tilers, great flexibility
Customize Maze Shape manually or with Masks
On-line Template, Mask, & Tiler galleries
Print Multiple unique mazes w/ solutions automatically
Export Multiple unique mazes w/ solution to Clipboard, EMF, BMP, GIF, & TIF Formats
Add Text & Graphics to your maze in 3 separate layers
Mouse gestures (short cuts) to improve productivity
Advanced maze design features:

Alpha blends
Draw your own solution
Advanced control of maze generation algorithm
Color control of maze features
---
Do you want to quickly and easily
create your own puzzles?
In a matter of minutes, these mazes were created with Maze Creator PRO. The output was then compiled into a small 12 maze booklet for Easter. There is also a page at the end with all twelve solutions. You can view this example by downloading the Easer Maze from the downloads area.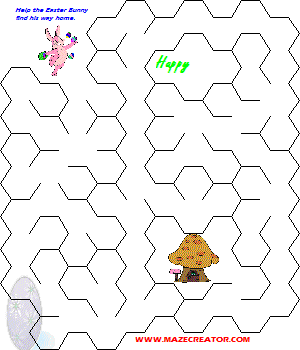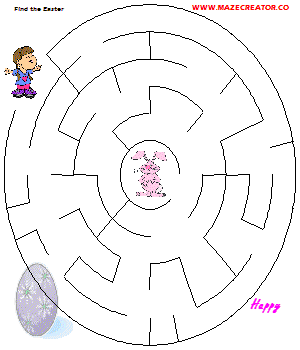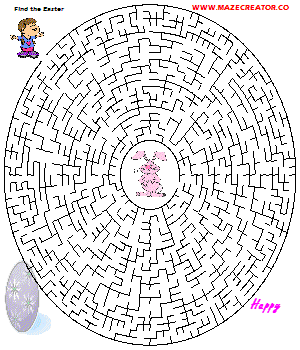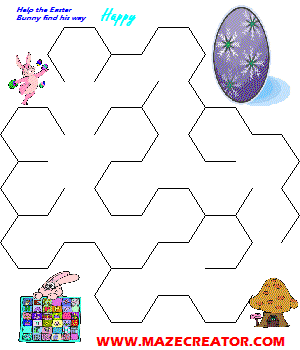 ---
URGENT SOFTWARE SUPPORT NOTICE
Please Read this notice if you currently own Maze Creator software
If you currently own Maze Creator HOME/STD/PRO, you may experience problems starting and registering the software. Please re-download and install the software to correct this problem and restore normal function. Please read this support notice for more detail.