May 2004
Hi Maze Creator Newsletter Subscriber,
Thank you all for making Maze Creator the number one maze software! Maze Creator development has been well under way and here is a quick update of features that will be in the next Maze Creator PRO BETA.
Growing Pains (again):
Some of you may have noticed the Maze Creator Site may have not been responding for periods of time. Please bare with us, we have had 3 ISPs in the last week! We may have found a winner, although we are still working with tech support to stabilize the site installation! If it is down, please just try again later... :(
Forums:
There are now Forums to help bring the Maze Creator community together. You need to be registered to post, but you can view the public forums without registering. You can find the Maze Creator Forums here.
Graphic Import Improvements:
In short, MANY!
The first major improvement here is the addition of importing GIF and TIF images in addition to the current BMP format. More formats will be added over time, if you have a favorite format, please email you request.

With the new formats, we just had to support TRANSPARENT IMAGES. Yes, you will no longer need to add images from a 3rd party to get transparency to function. Just load a GIF with the proper transparent color setting and you are done!

For the PRO version, we have gone one step further to help with your creativity. Not only will Maze Creator PRO support transparency, but it will ALPHA BLEND your image into place. This is an incredible feature for adding water-marks as well as hints and images. You now have the real-time flexibility to fade the image into the background right within Maze Creator. This eliminates some of the post processing you may have done in the past to improve your productivity as a designer.

Within the PRO version, you will be able to right-click on the image to change the ALPHA setting. This eliminates the need to delete the image and re-add.



Image Export:
Exporting images in the BMP format in the past have created HUGE files. We have added the export of GIF and TIF images to help manage this problem. This will help when sending proofs to customers or publishers. You can send them a high-res image with a very small file size. No need to zip or convert the format before sending. Also, for your own archive or layouts, this will make you file directories more manageable.
Humm.. Something completely different:
Well, we calling it using a "TILER" to render your BOX maze.
What does this mean? Up to now, Maze Creator uses lines to render the maze template. The TILER uses a graphic image to tile the maze together! So? Well, now the maze can be anything you can create. Render your own TILER graphics or use the built in examples. For example, built in is a tiler image for a garden with a brick walk way. This adds the most amount of creativity to the PRO version, since you can now create very unique or theme type mazes. Here are the 5 built in Tiler Images.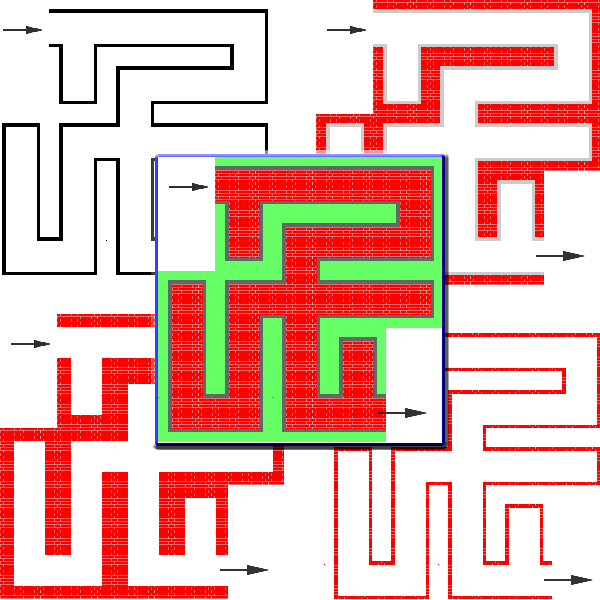 Other things in the works:
Maze Creator has a few other things up their sleeve. We are putting together a fund raising program for Schools, community, and Non-Profit organizations. This is in the works for June 2004, please contact Maze Creator with your organization size and your fund raising goal. An example we have put together will easily allow and organization of 250 members to raise over $7,000! Contact us now to get in line for the great non-junk food fund raising option. Great to have a product that can be used year round and is educational too.
Best regards.
Greg Peatfield
Maze Creator Author
www.mazecreator.com
mazecreator@mazecreator.com
fax: (707)- 982-2470